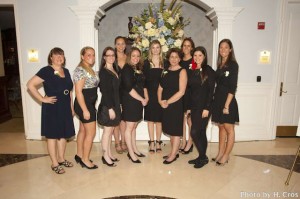 I had a fantastic consultation a few weeks ago with a couple that I call "soup to nuts" clients.  They had just started to plan their wedding and had nothing done.  They had looked at a few venues online and I gave them some referrals for a few other venues that fit their criteria.  We went through all the questions on my survey and talked about what they wanted and how All the Best could help them.  At the conclusion of our meeting they felt that I was very knowledgeable and were confident in my abilities.  They even indicated that I was the only planner they were consulting.  I went back to my office, wrote up their service proposal, sent them an email and waited for the "you're hired" response.  And waited, and waited, and waited.
When they did get back to me they indicated that they had consulted with two more planners after our consultation and shared the names.  They told me that based on these meetings that I should cost "X".  I removed the services they said they wouldn't need and lowered the cost.  Not quite to what they asked but close.  Time went by again.  The response this time was they were waiting to find a venue before deciding on a planner.  I'm confused, especially since they agreed that I would be an asset during the venue search process.
One of the planners they mentioned I knew very well, the other not at all.  When I asked the planner I knew if she had consulted with them she told me that, basically, they blew her off saying "the venue we visited told us we don't need a planner."  WHAT??
I could go on for hours on why that's not true.  The venue is going to hand you a list of "preferred vendors" and tell you to pick from there.  How do they know if any of them fit your criteria?  Do you get any value from picking from their list?  The venue will hand you their timeline and say "this is way we do it."  That's fine if you want your wedding done their way and not yours.
Is the venue going to read over the contracts and make sure they're inclusive of everything you discussed?  Is the venue going to send you payment reminders?  Is the venue going to make sure you're staying within budget?  Is the venue going to work with your photographer and schedule hair and make up to make sure you've got enough time to get done what you want to get done?  Is the venue going to be there to handle any emergencies that come up before the ceremony?  Are they going to coordinate your hotel shuttles? Monitor your room blocks?  Deliver your gift bags?  Help with the wording for your invitations?  Track down the RSVP stragglers?  Work with your florist on your event design?  Repurpose the flowers from the ceremony so your florist can concentrate on the reception?  Listen to you when your mother or mother in law is driving you crazy?  Answer the "what do you think about this?" questions?  The list of what the venue is NOT going to do to plan your wedding is much longer than what they are going to do.
I've worked at those venues who tell clients they don't need a planner.  Want to talk to those brides who hired a planner anyway?  Arlene Schmid of Parties by Design always says "If I could talk to the bride the day after her wedding she would hire me every time!"
If you're that bride that believes the catering sales rep who tells you "You don't need a planner if you have your wedding here"  ask them exactly what it is that they're going to do for you.  If it's everything you wanted a planner to do then you're in the right place.  If it's not then the next step is up to you.