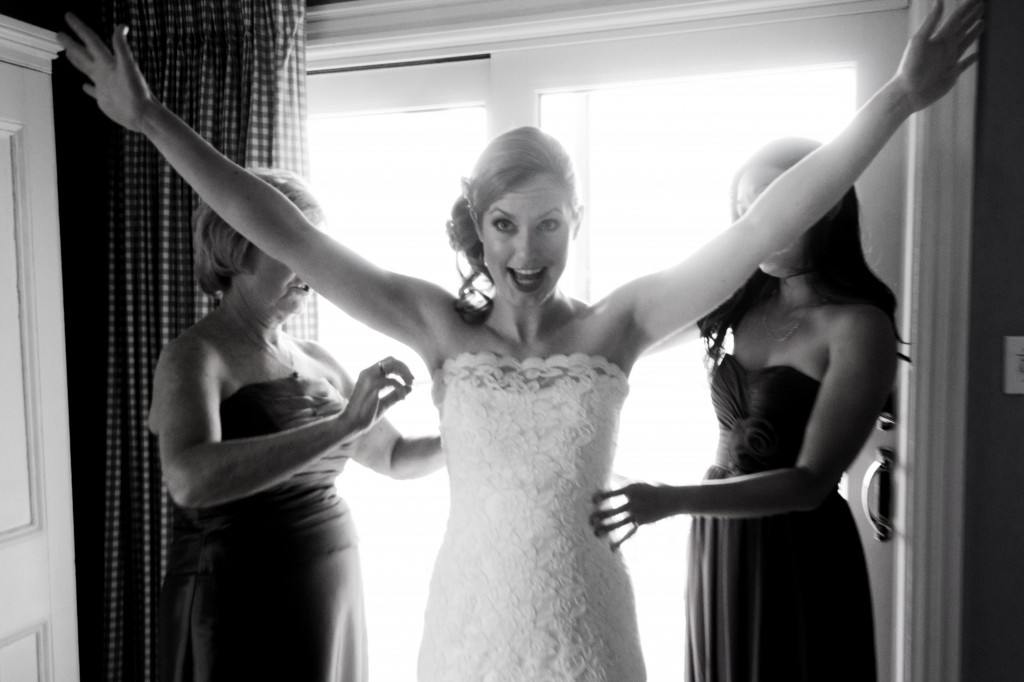 The Planner Says:
If at all possible wedding dress shopping shouldn't be rushed.  You may go in to a salon with a photo or a style in mind and come out with something totally different.   The style of the dress will be reflected in the style and feel of the wedding (formal, whimsical, sexy, modern, vintage, etc).  Set a budget and stick to it.  Ask for dresses a little below your highest price.  PLANNING NOTE 1:  Once a bride tries on a dress that's above her budget that she loves she won't be able to get it out of her head and everything else will pale in comparison.  Don't forget that the amount should include veil (or head piece), jewelry, under garments, shoes, alterations and sales tax.  PLANNING NOTE 2:  There is no sales tax on wedding dresses in NJ.  If you buy the dress in NYC, for example, have the dress shipped to you in NJ to save the tax.  You can always find someone closer to home to do the alterations.
Shopping trunk shows, salons that offer discounts, and sample sales can bring significant savings.  Dress shopping can be tiring for the bride.  Some of those dresses are heavy.  The bride should sit and stand and dance in each dress that's being considered.  Drop your arms down to your sides especially with a bodice that's heavily beaded.  The beading can cause irritation that won't go away until you take the dress off sometimes 12 hours after putting it on for the wedding.   Bridal dress sizes run small.  Don't be surprised if you're normally a size 4 but they order you an 8.  Listen to your sales person.  At the established salons they have the experience to know what's going to look good on your body.  It doesn't hurt to try it on.  Once the bride says "YES!" try to find a similar style by the same designer (or design house) in the size the salon wants to order (if the sample you tried on wasn't the right size) just to see if that size is close to correct.  PLANNING NOTE 3:  Be aware that some salons will order a much larger size so that you'll have to spend more in alterations.  I have found this to be especially true with bridesmaids dresses.  DO NOT order a smaller size and think you're going to diet your way into the dress.  Your fiance loves you at the size you are.  A good seamstress can make a dress smaller.  It's more difficult to make it bigger.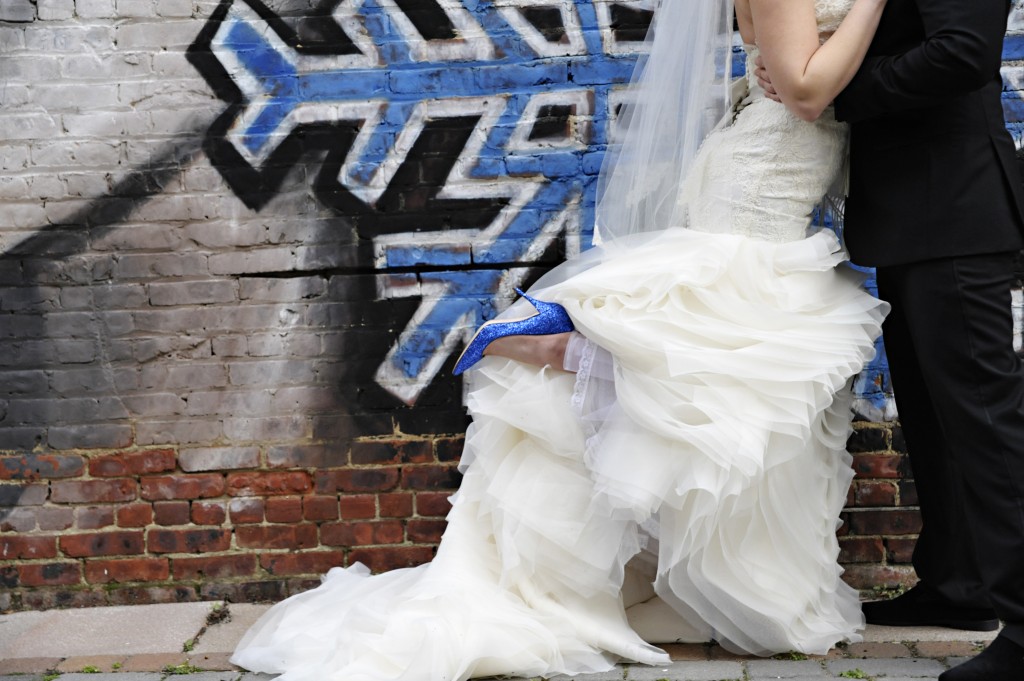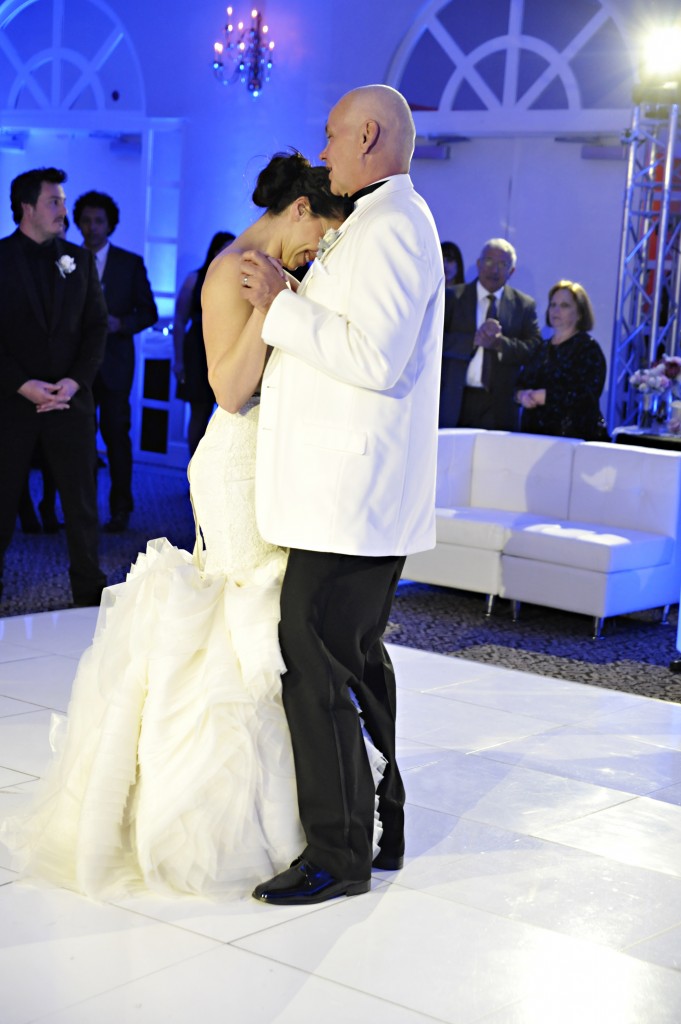 PLANNING NOTE 4:   Make sure to bring someone with you to your final fitting who can learn how to properly bustle your dress.   If yours is a French bustle have the strings numbered (1 to 1, 2 to 2, etc) to make it easier to match the correct strings.  DO NOT tie the strings in knots.  If it's an American bustle check to see where all the loops are for the hooks and what goes where.  There's nothing more frustrating than to think the bustle is done and find an extra loop.  Ask your salon to provide a bustling diagram.  Bring small white zip ties just in case the bustle breaks because someone is going to step on your dress.
Mother of the Bride:
Happy Birthday to me! They're "officially" engaged!  Finally!  It's the end of August and now it's FOUR months until the wedding.  Obviously I have not been successful in getting them to change the date.  As a matter of fact I am officially banned from bringing it up ever again.
Alison and I go to Barnes and Noble and pick up the national issues of The Knot and Brides magazines to look at wedding dress styles just to see if she can narrow down the choices.  She likes what she sees from Pronovias for both herself and her Maid of Honor (they will each only have one attendant).  We want to go to Kleinfelds in NYC and try to make an appointment for the week after Labor Day (we're calling the Wednesday before).  The girl who answers the phone knows nothing about customer service and tells me there's nothing available.  Doesn't offer to put us on a waiting list, see what she can do, nothing.  We're both turned off and disappointed about this but are determined to move on. We make appointments in NYC at the Pronovias flagship store and The Bridal Garden for the following Tuesday.   Alison asks me if there's anywhere we could go today.  I tell her to try The Bridal Garden (no relation to the one in NYC) in Marlton or Castle Couture in Marlboro.  She looks at both online (this will become a trend) and calls Bridal Garden.  She gets an appointment for 3:00pm that afternoon.  After quick calls to my mother and my sister the four of us (and my credit card) are off.
I will tell you up front that this was not the experience I had waited 26 years for.  It was over in two hours.  I don't think the saleswoman Gillian (who turned out to be the store manager) knew I was the MoB until it came time to pay.  No one asked me anything.  Not what I had envisioned for her dress (no corsets or lingerie styles) or how much I wanted to pay.  I had to run out to the car to get something.  By the time I came back Alison had completed the card they gave her and she and Gillian had already talked.  Gillian went off to pull dresses and brought back armloads.  As Gillian got Alison into the first dress we three waited outside.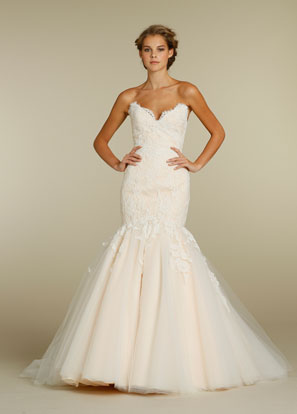 Photo courtesy of JLM Couture Website. Jim Hjelm Spring 2012 collection.  This dress was 1st runner up.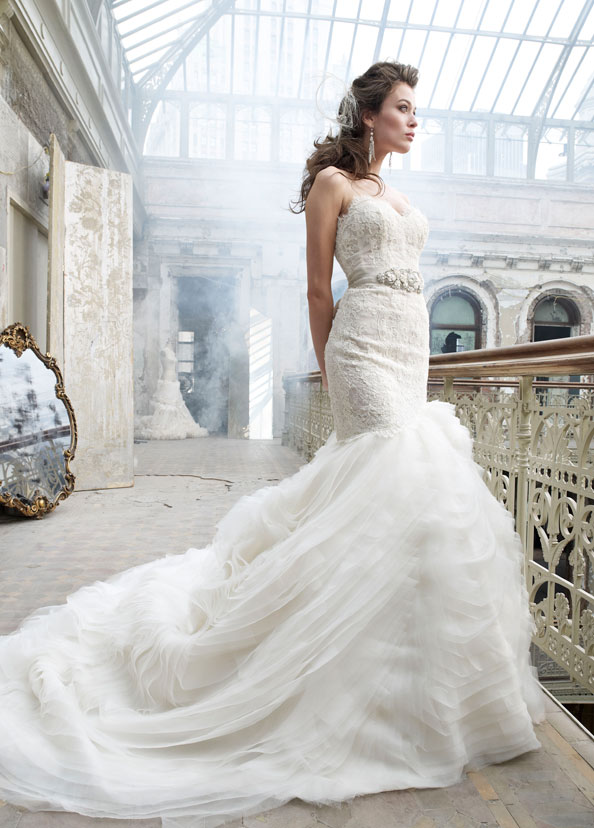 That first dress turned out to be "the one!"  I'll give Gillian credit she knew what she was doing.  Put her in the most beautiful (an expensive) one first and let all the other ones try and beat it.  We all "aahed" the moment she came out.  The three of us tried very hard not to impose our opinion.  If Alison loved it, we loved it.  If she hated it, we hated it.  She tried on at least ten more and looked amazing in all of them.   She wanted to take photos and send them to her MoH in CA for her opinion.  Not allowed.  No Facetime either.  She wouldn't try on a ball gown or one with a fuller skirt no matter how many times I asked "just once please."  Alison is tall and has an amazing body with curves.  If she couldn't get the the sample on – "don't bring me anything that real women can't wear" – she wouldn't consider it at all. Mermaids, A-lines, fit and flares only.  While waiting in between changes we chatted with an FoB who was there with his daughter and wife.  This was their 15th (!) bridal salon.  They had been everywhere including Kleinfelds.  He said she's tried on over 100 dresses.  I wasn't expecting to walk out with a dress that day but I knew we weren't going to do this 14 more times either.
After trying them all on, and a few more than once, Alison narrowed it down to two dresses shown above; an ivory Lazaro and a blush pink by Jim Hjelm.  Both are part of the JLM Couture group.  The Jim Hjelm was less than 1/2 the price of the Lazaro.  Guess which one she picked?  When she put the veil on we all wanted to cry.  I couldn't say no – she looked so beautiful!  Gillian assured me she would be able to get the dress on time (current lead time was January!) and she did – almost two months sooner than even she said she would.  Their alterations department is top notch.  The dress needed only minor adjustments to the bodice.  When they were done the dress fit her like it was made for her including special "hooks" inside the bodice that fit to her bra.  Almost 50% over budget right out of the box including the veil, alterations, a lining for the dress, and sales tax. Her shoes cost more than the two dresses I bought for the ceremony/dinner and the party.  This does not bode well for the budget.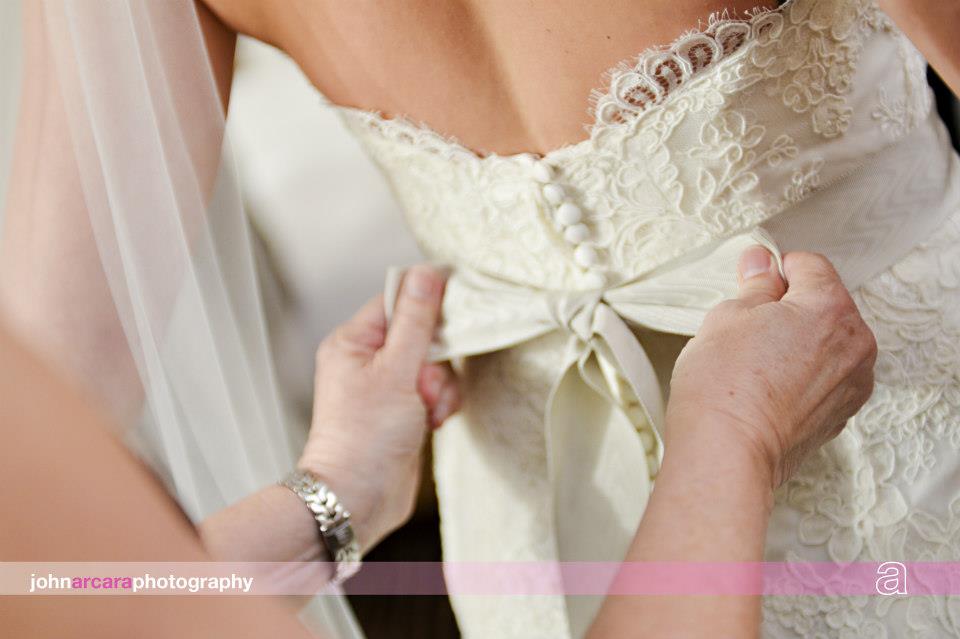 Things I would do differenly:  While I should have been more assertive in the beginning and asked for dresses at my price point or below the dress was worth every penny.  Alison looked stunning on her wedding day.  I was being selfish in wanting it to be just her and me dress shopping.  My mother and my sister were the epitome of how to wedding dress shop by being totally supportive of the bride.  I'm looking forward to going with my sister for my niece one day.  Alison did complain (from the beginning when trying it on) that she was sweating in the dress.  She took it off before the end of the reception and did the last 30 minutes in leggings, sneakers and "bride" tank top!