If you GOOGLE "2017 Wedding Trends" pages of information will appear. I know this because that's exactly what I did recently while researching a recent presentation to a group of event professionals.  Herewith are my findings listed in alphabetical order with photos below the text. Which trends do you like? Which ones do you not like? Let us know!
Attire:  The traditional wedding attire of girls in white dresses and guys in tuxedos will never go off trend. In 2017 look for more color in wedding gowns; gowns with detachable skirts; guys wearing suits right out of their closet; and bridesmaids choosing their own dress with no input from the bride or the bride indicating length and color.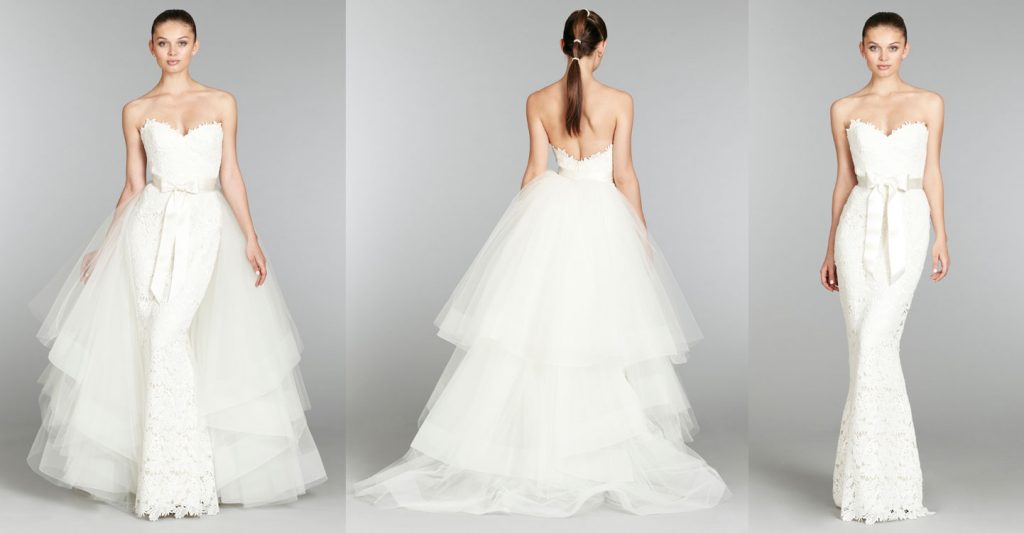 Favors & Gifts – we have never been a fan of tchotchkes. You don't want to get them so why give them. We are fans of donations to a charity that's important to the bride and groom and anything edible. Some couples are going so far as to indicate a donation instead of a wedding gift, "We have enough, please contribute to XYZ charity".
Think buffets for candy or baked goods. Set up a bakery with staff behind the table or counter filling small boxes lined with waxed paper. Use twine or a cute custom label to close the box. One couple had bags of cookies made in the shapes of all the states they've been in with coffee to go as guests departed.
Swag lounge – instead of hotel gift bags set up a room with light refreshments and all the swag you would have put in the bags and let your guests come and take what they'd like. Great opportunity for all the hotel guests to meet and greet as well.  Have a pile of custom printed paper or fabric bags to hold all their goodies.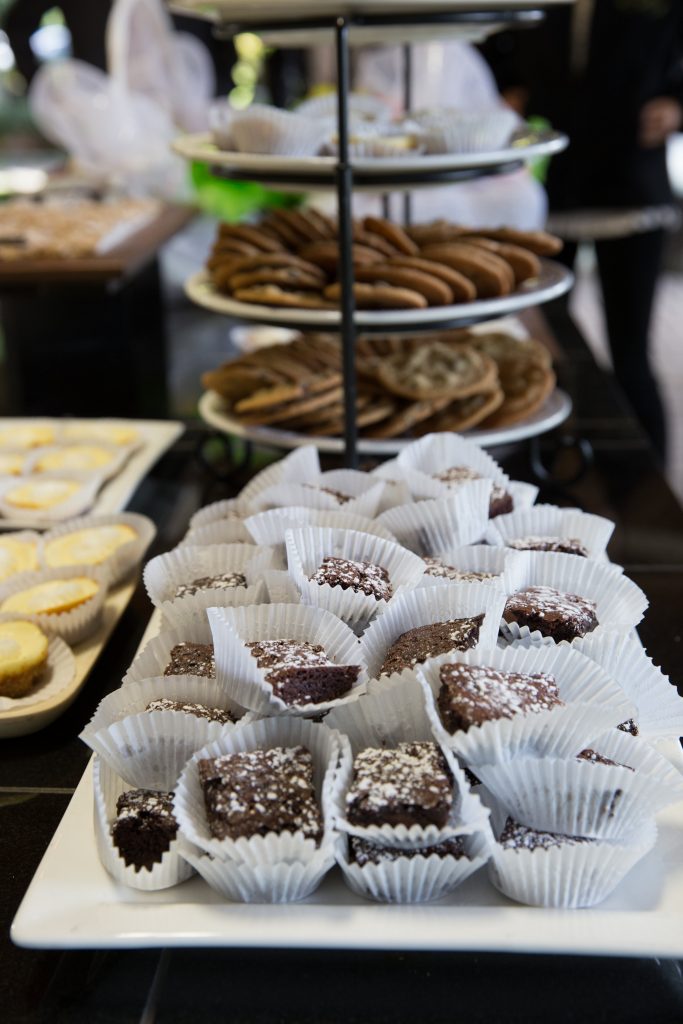 Floral & Event Design – everyone's favorite topic! Vertical installations hanging from the ceiling are my new obsession. Think draped ceilings, hanging orbs, or floral chandeliers. Also loving on unusual flower and plant combinations – protea and succulents with standard flowers such as hydrangea or roses. Garden inspired florals and floral runners or lots of little arrangements going down the center of long tables. Eclectic non-matching tableware and place settings. Think Grandma's china or yard sale finds. Neutral palettes with a pop of a bright color
Rustic and Boho are OUT – Mountain Chic is IN!  Use elements that fit your style and the style of the venue. Not every Rustic – sorry, Mountain Chic – theme needs burlap, mason jars, and tree planks.
Heterogeneous  vs. Homogeneous table decor – same color palette, different arrangements on each table.
Small clusters of like colored flowers instead of one gigundo centerpiece. Different size height and shape containers of the same material such as milk glass with bright colored flowers or clear glass with colored water and white flowers.
Signs – tell everyone what's going on with a beautiful sign. Instead of chalkboard think wood, slate, plexi-glass, or faux marble.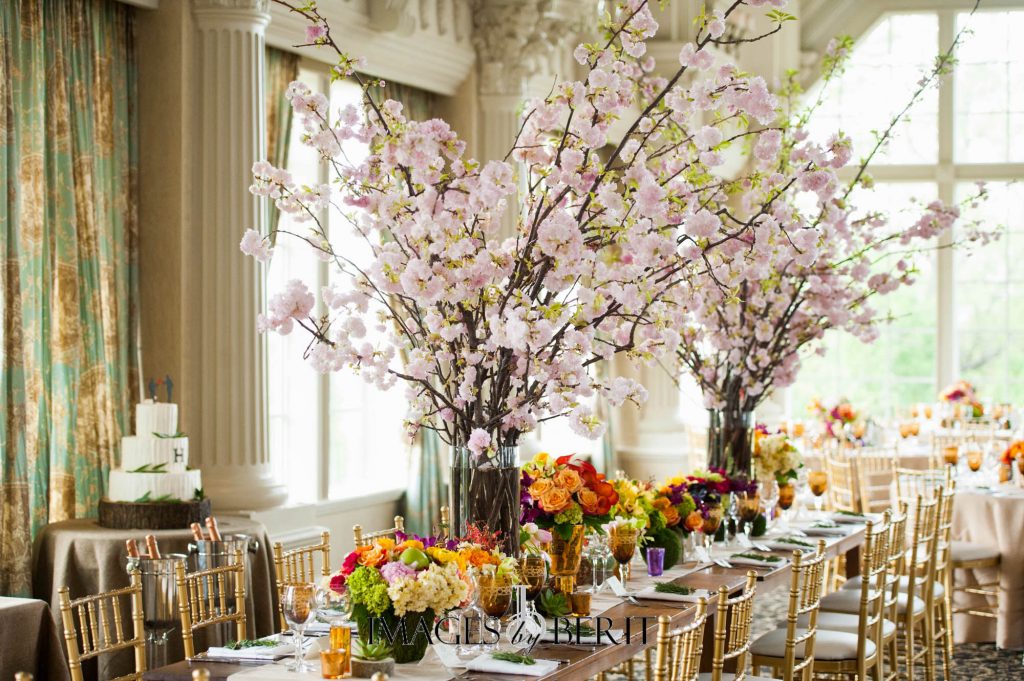 Food & Beverage – you can still have pigs in a blanket. Work with your caterer on a twist such as bratwurst or sausage instead of hot dogs!
Consider a custom built bar (not as expensive as you might think) then hire a mixologist to create a custom drink or create a whiskey or bourbon bar with a bartender who can explain the differences between all of them.
Creative food presentations such as food walls, live oyster shucking, make your own sliders (chef cooks the protein, guests choose the bun and toppings), cupcake station (several flavors of uniced cupcakes with bags of  different frostings and lots of toppings), food trucks
Food Choices – local foods, ethnic foods, family recipes, meal special to the couple (what they ate on their first date). If your caterer isn't up for any of these find another caterer.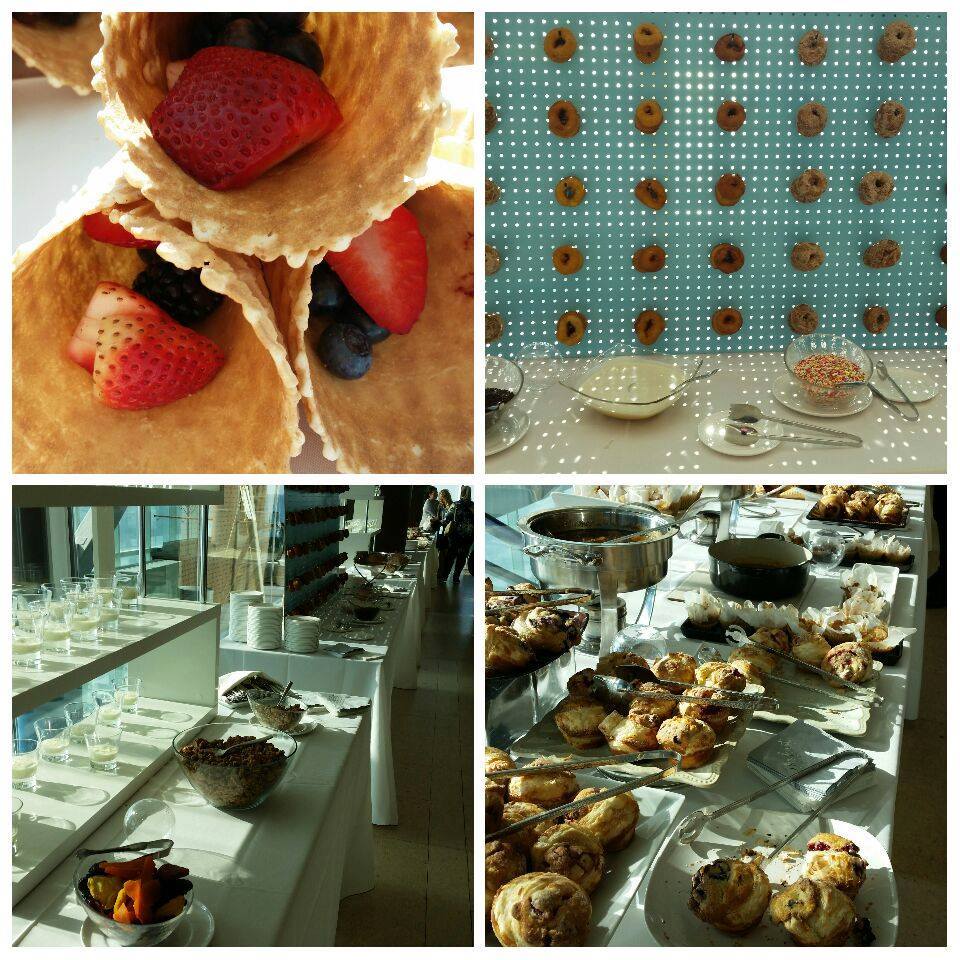 Green – the 2017 Pantone color of the year is Greenery. Show it off using real trees and/or potted plants (rented or to plant afterward).  Green is a color that pairs well with almost everything (metallics, neutrals, etc)
Images – your photos and video will last beyond your lifetime. A family history for all to see.  These images are the only lasting impression that you'll have of a day that took a long time to plan and will go by in an instant. Don't scrimp on your photographer or videographer. There are plenty of other places to save money.
Drones and Instagram videos are in! Photobooths too: think 360 degree photobooth or a formal portrait gallery (back drop with a photographer; everyone is dressed up already!), instant cameras for guests to use then paste the results in an album used as a sign in book.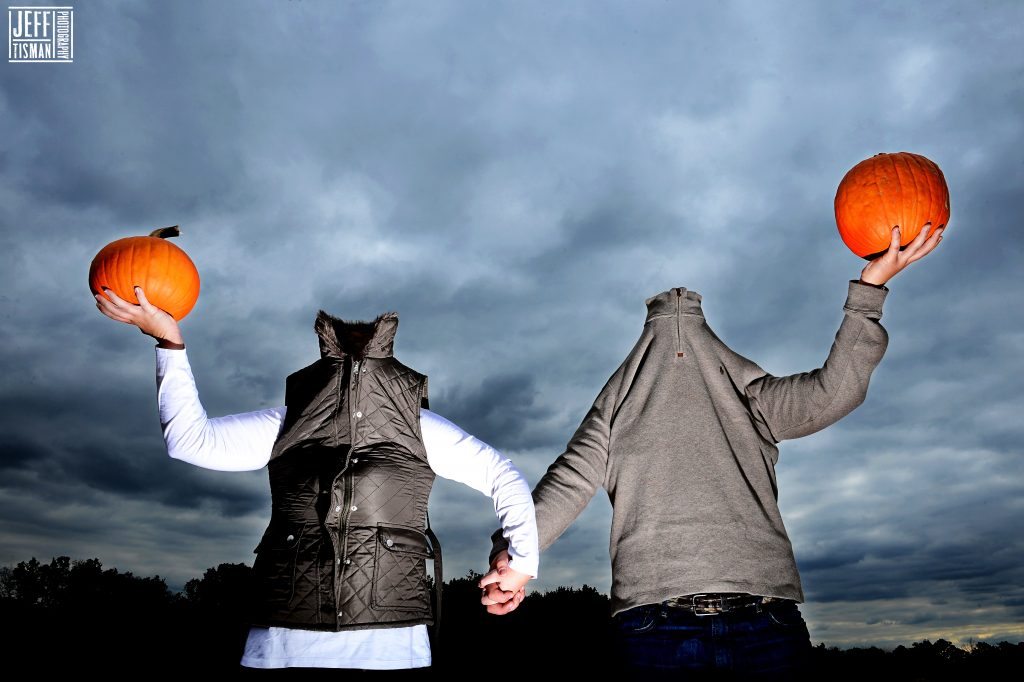 Lighting – a MUST for any event. We are huge fans! Lighting brings life to a windowless ballroom. New for 2017? Image mapping, single color wall wash, carnival lights with orbs or Edison filament bulbs. Use your imagination.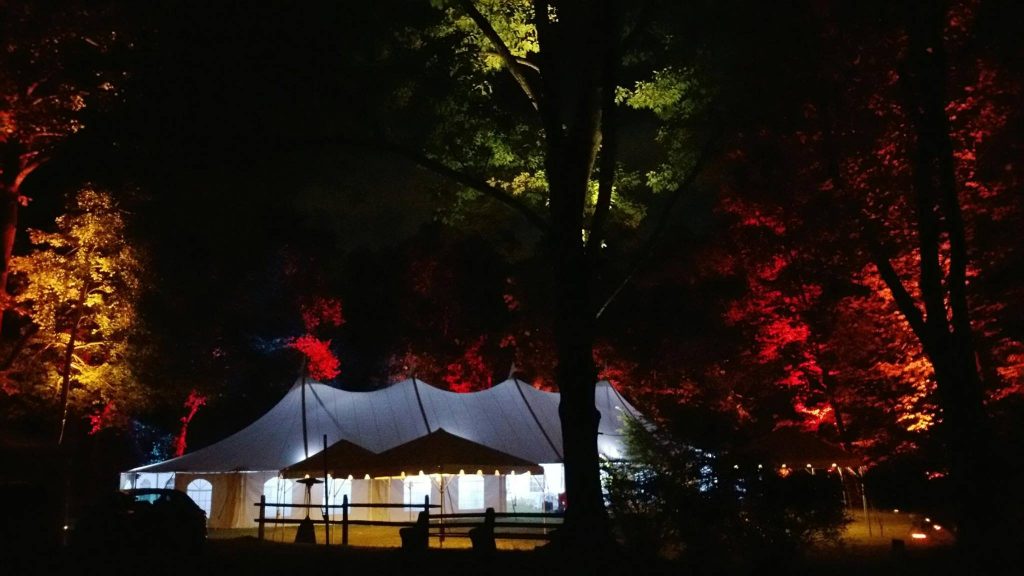 Metallics – mix and match colors and textures. Could be as simple as utensils at each place setting or as elaborate as linens used sparingly. Look for metallic bridesmaids' dresses; foil stamping on stationery; edible glitter added to the wedding cake.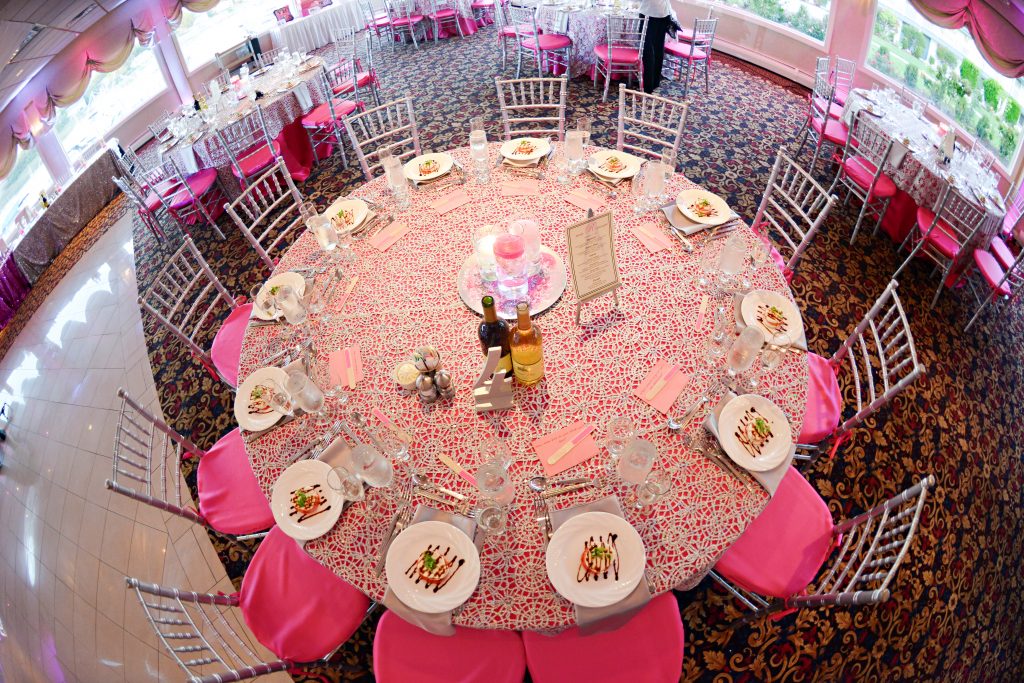 Venues – who says everyone has to sit at a round table all night long? Encourage mingling and dancing by putting groupings of lounge furniture around the dance floor. If all you can fit is tables then make them different sizes and shapes. Chivari and padded folding chairs come in all different colors. Mix it up a little.
Think outside the ballroom box – big open field, tents, unique spaces with killer views. Pipe and drape along with professional lighting can change an ugly duckling into a beautiful swan.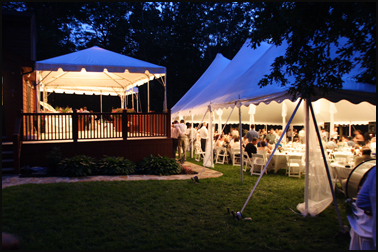 Surprises –  This is my favorite category. We're always looking for new ways to surprise our clients with an unexpected detail. Confetti cannons after your first kiss at the ceremony; a marching band to lead your guests to the next phase of your event; eat dinner first then party without interruption serving cocktail hour type food at the reception (can't drink without something to eat!). Save the wedding cake and coffee service for the end of the party to get everyone to sober up a bit.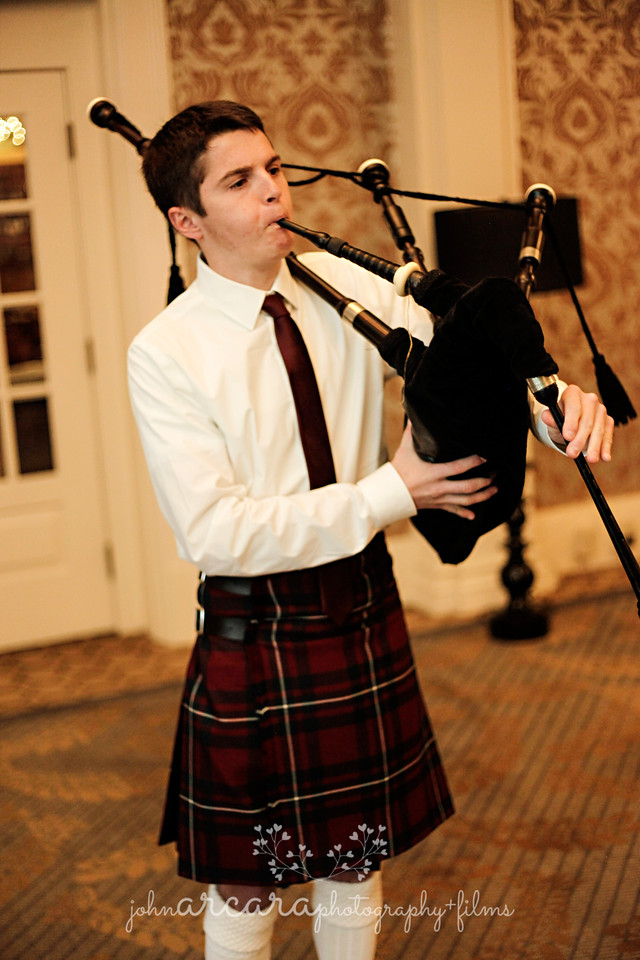 After Party – so many options, so much time! Silent Disco (our new obsession), lounge furniture, games (set up a checkers or corn hole tournament), or unusual entertainment (fire jugglers, strolling magician, ethnic dancers). Choose a theme that's 180 degrees from the reception – carnival, Paris, beach party, skiing – with food and decor to match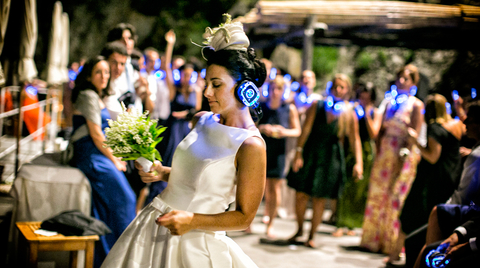 Trends to avoid in 2017: According to the bridal experts to at Vogue Magazine as published on December 27, 2016. These are the experts – not saying I agree with any of them……..Naming Signature Drinks; Family-Style Dinners; Floral Runners; Large Bridal Parties; Giant Bridal Bouquets; All white decor; Converse Sneakers or Cowboy Boots on either the bride or the groom;  Flower Crowns; Food Trucks; Floating orchids.
SOURCES:  Bridal Guide; Brides.com; International Academy of Wedding & Event Professionals; TheKnot.com; Martha Stewart Weddings; Vogue: Wedding Wire