It's a Matter of Trust
Some of my clients don't trust me.  What I mean is they don't trust my expertise.  They have an idea in their head of what they want, when they want it and what it should cost. Sometimes there's very little I can do to change their minds.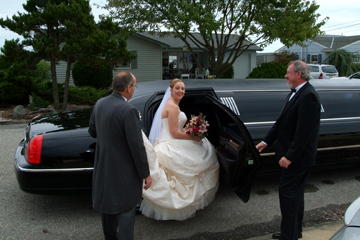 One of the biggest arguments I get is about transportation. When I started my own business the first company I signed on was a limo company that I had used when I had a corporate job.  They're a little more expensive then other limo companies and, IMHO, worth every penny.  When I book them I don't have to worry about anything.  I know their cars are immaculate, their drivers professional and their timing is spot on.  I get a discount which I share with my clients.  In 11 years I've had one complaint about a driver being a little cranky.
I had clients who decided at the last minute they wanted limo transportation for their wedding. They thought the rates for my go to company were too high and found another company on their own.  While the final decision as to which vendors to use is always the clients I try to make sure they understand the consequences of choosing solely by price.  Their June wedding day was hot.  The air conditioning in the guys limo overheated on the way to the ceremony.  The drivers kept the cars idling during the ceremony to keep them cool and another one overheated.  The company only had one car to send as a replacement and it took over an hour for it to arrive.
Several years ago I had a client who only wanted the raw video footage from her wedding day. Prep, ceremony, reception – nothing fancy, no music, no photo montage – just the video please.  She chose a company based solely on price. I knew this company and begged her not to use them and gave her several other options – all were more expensive.  She went with her original choice and got her video within a week of the wedding.  She was very disappointed.  Some of the video was out of focus, most of it was grainy and the videographer didn't get some of the footage she wanted.
I have quite a few options regarding floral professionals depending on (a) the budget and (b) the vision of the bride. Peonies are all over the bridal magazines.  What the magazines don't tell you is that they have the shortest season of almost any flower.  A bride last year really wanted peonies in her bouquet for her August wedding.  While her floral designer and I did our best to dissuade her, she was insistent.  The designer was able to find a supplier who promised 6 stems for $250 (!).  When the flowers arrived they were in such poor condition that the florist couldn't use them.
When putting together a timeline I work with all the professionals to make sure we get the most out of cocktail hour and 4 hour reception. A former client had it in her mind that things were going to be done in a certain order and there was no changing her mind.  She was 2 hours late for pictures and didn't get to see any of her cocktail hour. Her very expensive band barely had time to get everyone up and dancing because of the way she had truncated the schedule. She almost missed the last dance because of the pictures she insisted on taking "under the moonlight"
The moral of the story is trust. A qualified experienced planner will help you see through the mist and mirrors to decide which options are best for you.  Communication is key. Managing your expectations helps too. Champagne tastes on a beer budget are going to lead to disappointment on the big day which is something no one wants.  Listen to your professionals and communicate effectively so that there are no grey areas when it comes to the final product.  That's how you get the happy ending!!