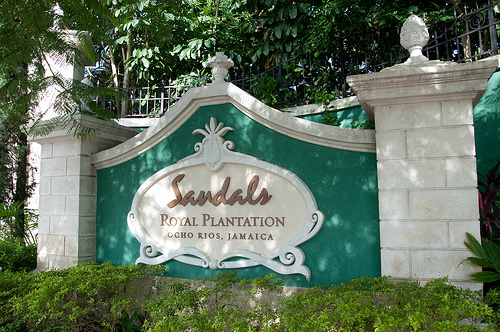 We leave Montego Bay and head to Ocho Rios for more tours.  We will stay at Sandals Royal Plantation.  This is a small, quiet, all Butler Suite resort with two beaches.  Included in your stay are unlimited water sports (snorkeling, scuba diving, glass bottom boat, stand up paddle board, Hobie Cat sailing) and golf at the Sandals Golf and Country Club.  It is a small slice of heaven on earth.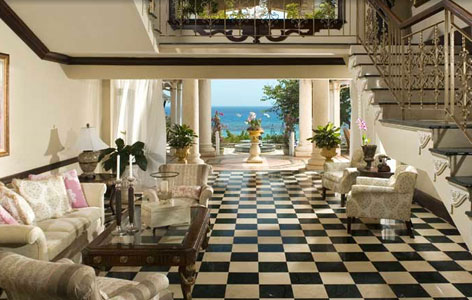 Because we had to tour the other resorts we barely got a look at anything but the lobby and our butlers.  They arrived in their casual attire of impeccable white embroidered golf shirts and pressed black pants.  They took our luggage and off we went to tour.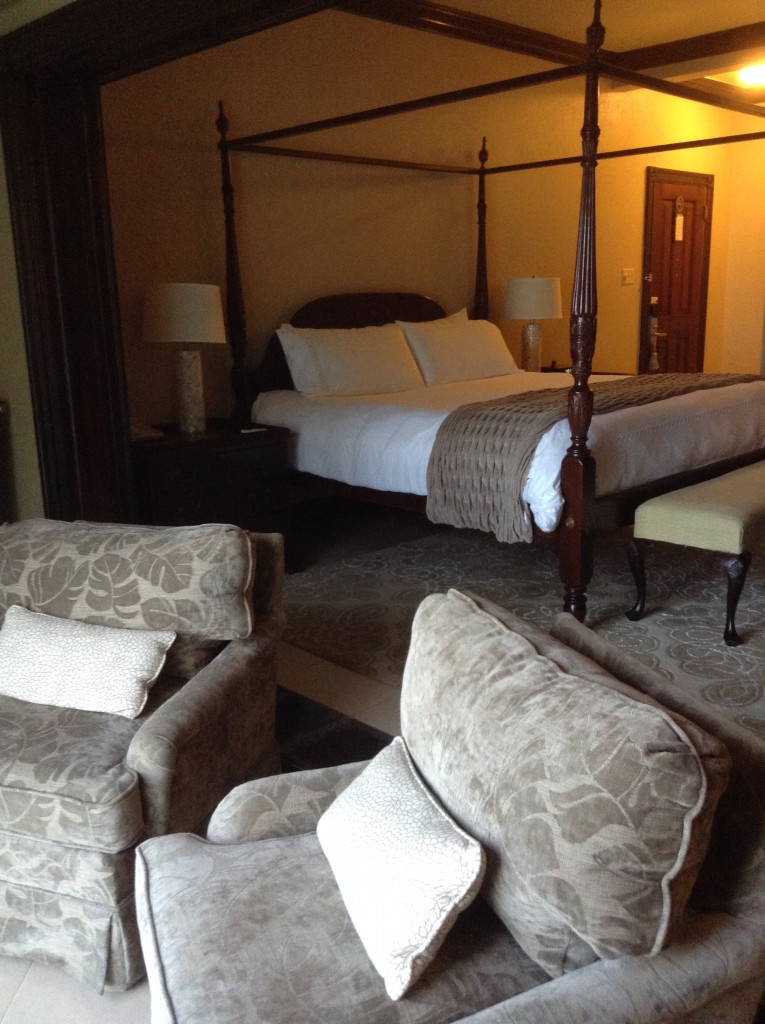 When we returned late in the day we were hot, sweaty, tired, and hungry.  No worries.  Our rooms were ready with luggage inside.  The bar and mini fridge were stocked and there was a fresh fruit platter on the table. I opted not to have them unpack for me.  My room had a European balcony with an ocean view.  Took a cold bottle of water from the fridge, sat in a comfy chair, propped my feet up in front of the open doors and filled out my paperwork. Called my butler Steve (with the phone provided) to let him know when I was done.  He picked up everything and brought it to the front desk.

Steve was wonderful – attentive without being overwhelming.  When we went to dinner that night all of our butlers piled in the van with us.  This time in full suit, gold vest, ties, and white gloves.  Upon arrival at Kimonos each of us was escorted to our seat at the bar by our butlers where we (and they) waited, briefly, for our table.  From there the butlers took our drinks, escorted us to our seats at the table, made sure we were comfortable, and then left us for the evening. When done we took the available shuttle back to our resort.
Dinner was fun and delicious.  Our chef was boisterous and had us all singing loudly.  You can't help but make friends while sitting there.  One of our group ordered sushi from Soy for appetizers.  A waiter delivered them to her at our table.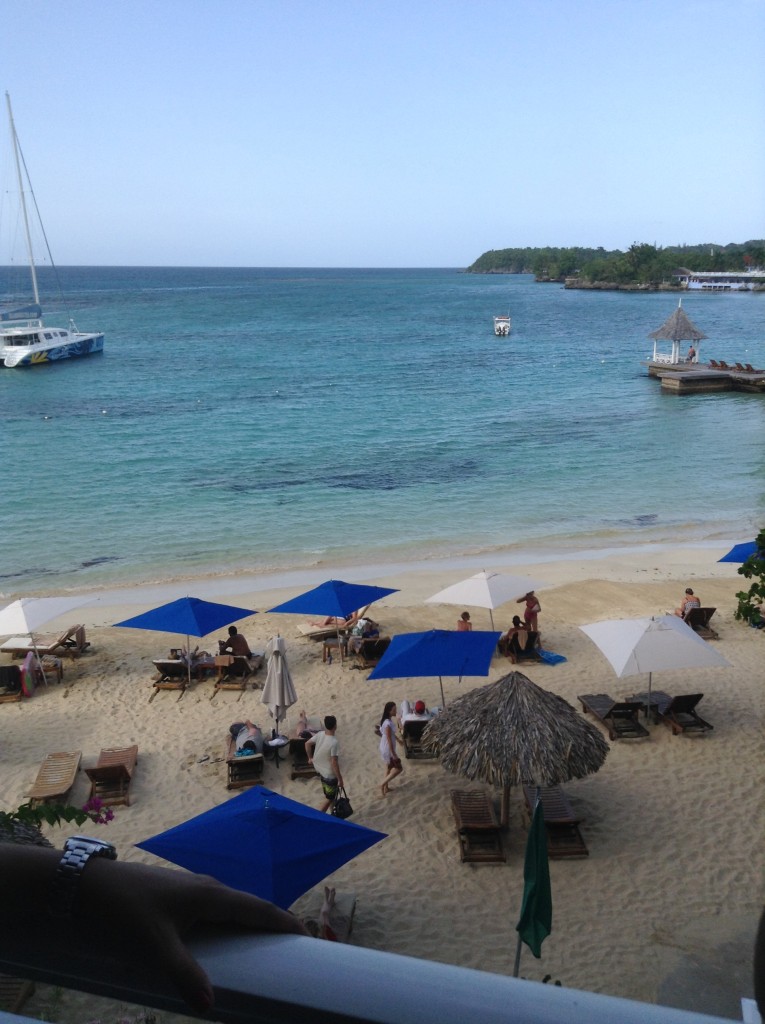 We had the next day off.  The day before had been exhausting.  Three of us took advantage of many of the water sports that are included in everyone's stay.  I tried stand up paddle boarding.  Let's just say I'll need to try it again. Then we took out a Hobie Cat with one of the staff sailing for us.  After that we took a snorkeling trip (they have all the gear) on a glass bottom boat. When we returned my companions went horseback riding offsite.  They booked that trip through the Island Routes desk which can be found at every resort. NOTE:  Work with your travel professional to book your offsite trips before arrival to help guarantee you'll be able to do what you want to do when you want to do it.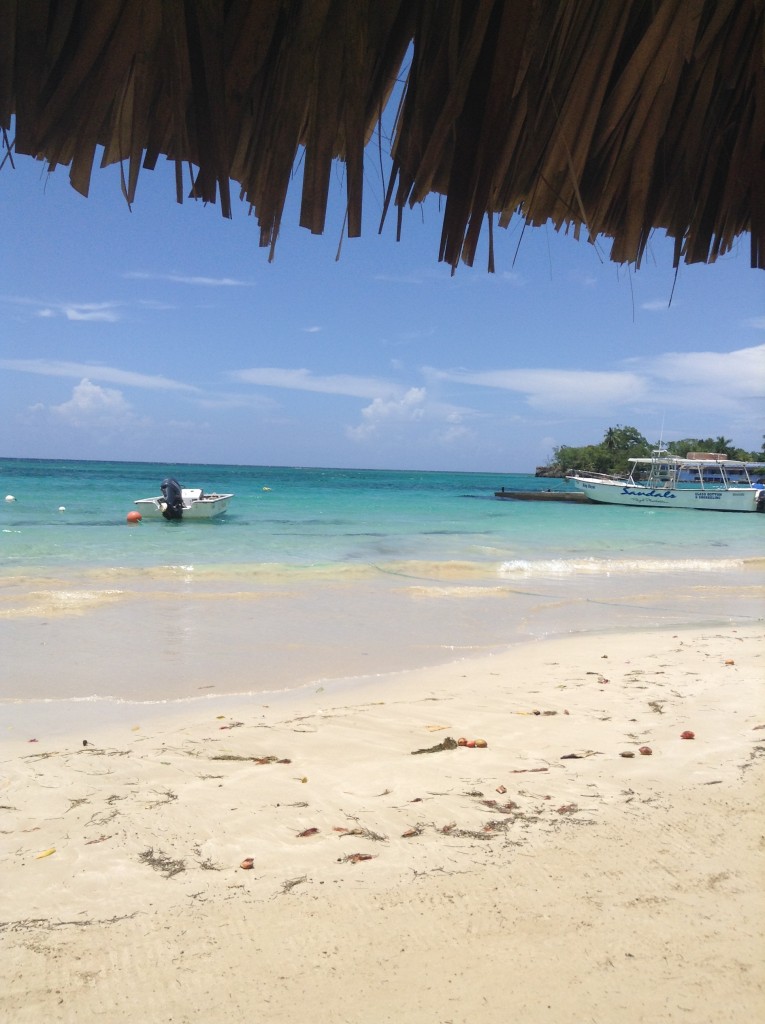 At the beach I found a padded lounge chair under a thatched umbrella.  Olivia, our Sandals rep and tour guide, joined me.  She called her butler who brought us menus.  We ordered lunch and some cocktails.  A short time later we were eating and drinking without having lifted a finger.
After lunch Olivia and I headed for the pool with Jacuzzi and waterfall that sits on a deck that overlooks the beach.  The water was refreshing after being in the sun.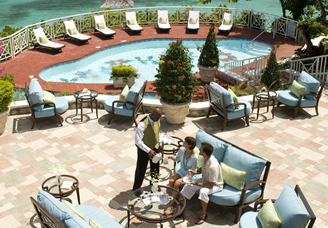 There is afternoon tea on the patio.  Wait staff will bring pots of tea or any other beverage you request.  Fresh baked cookies, scones, and muffins are also available.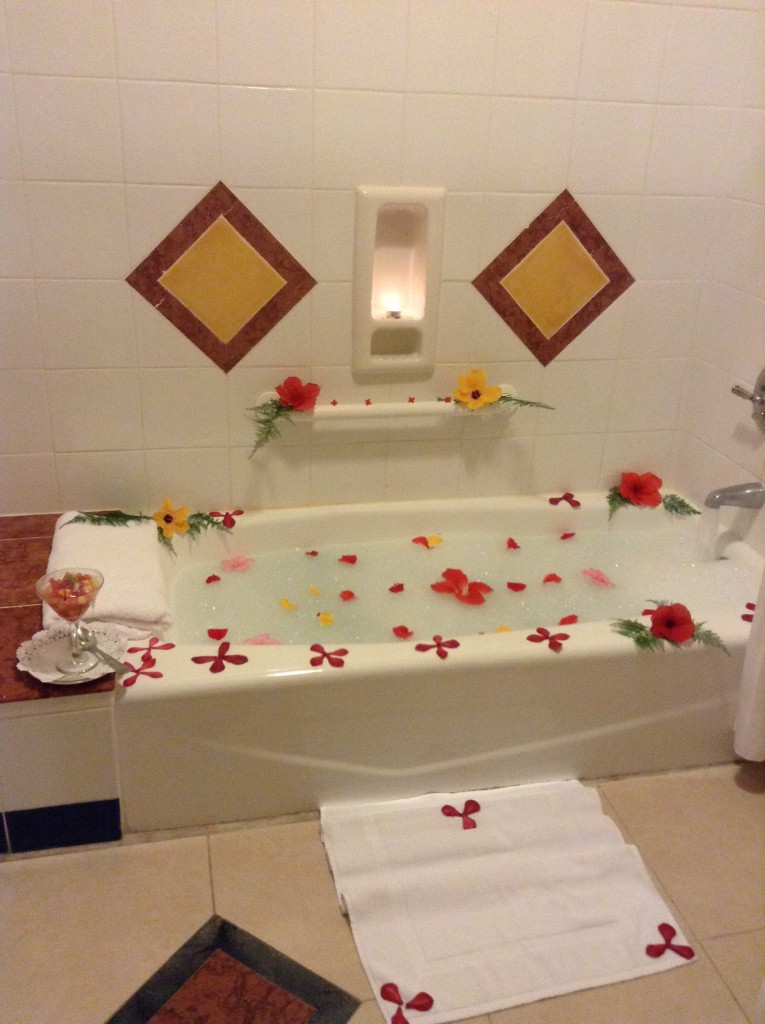 Upon returning to my room to get ready for dinner I discovered a bubble bath complete with refreshing fruit cocktail that Steve had prepared for me.  How delightful to slip into that tub without having to lift a finger.  Just thinking about it brings a smile to my face!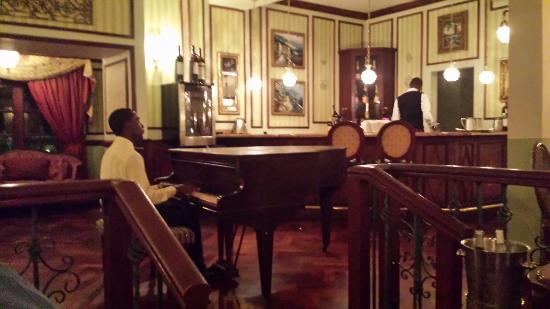 Our farewell dinner that night was at Papillon.  The food was delicious and the service impeccable.  It was a fitting send off after such a wonderful trip.
I highly recommend Sandals Royal Plantation to those who are looking for a more relaxing vacation. You can still party hearty at Sandals Grande Riviera. The Ochi Beach Club is easily accessible or you can take a shuttle to their huge pool or any of the restaurants on the hillside.  Sandals Royal Plantation has their own wedding staff and several fabulous places to have a ceremony and reception including Villa Plantana, which is a private villa on the grounds that is available to rent, or on either beach.  Sandals Royal Plantation is also one of the most cost effective of all the Sandals resorts for butler service.